Configuration and authentication
This guide was created using Ubuntu 19.10 with the KDE Desktop interface.
Start with a right click on the connection icon.
Then click on LAN settings under cabled….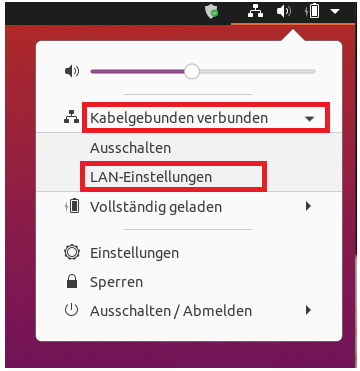 Now click on the tab "Security" and carry out the following steps:

(1) Activate the slide switch for "802.1x security".
(2) Select "Protected EAP (PEAP)" under theitem "Legitimacy".
(3) The "T-TeleSec_Global_Class_2-pem" certificate is required as the certificate. You can download this certificate from the official pki dfn site as .pem file format Download

Please select "MSCHAPv2" under the item "Internal legitimacy".
(4 and 5) Enter your TU-ID in the box "Username" and enter the corresponding password.