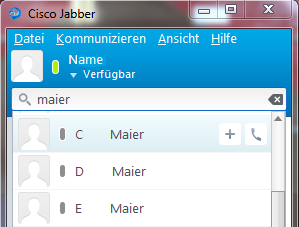 Dial via Jabber – Contacts
In the Jabber search field, search for the name of the person you want to call, for example, Meier. You can also enter first and last name in the search field, for example Carl Meier.
Click the phone icon after the name.
Note: Jabber is initially configured to make calls via your computer. If you dial with Jabber but want to make the call over the phone, you need to set this once.
To do this, click on the icon in the bottom right corner of the main Jabber window. There select Use my phone (>Mein Telefon für Anrufe verwenden) for calls. This setting remains until you change it.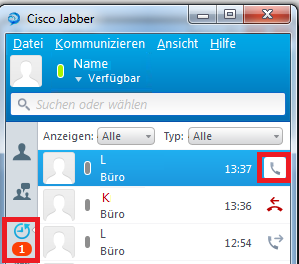 Call list
Click on the icon with the clock. The number below it shows you how many calls you have missed.
Click on the phone icon of the person you want to call back.
Change audio output device
Click the icon with the gear to enter the settings. In the newly opened window select Audio.
You can now select your audio output device under Speaker. Similarly, under Microphone you can select your audio input device.
Via the Advanced>> link (you may have to scroll down a bit in the settings) you can adjust the order in which the respective input and output devices are selected.
More Instructions and support
More help and tips on using Jabber can be found here:
If you have any questions or problems, please contact the HRZ Service .